COACH ● SPEAKER ● AUTHOR
Today, humanity has an unparalleled opportunity to break through old paradigms and realize its Oneness and unbound nature. Over thirty years David has inspired a quarter million people worldwide to awaken beyond their mind's limitations. Through Conscious Coaching and as one of only four global Sedona Method Instructors, plus being a Best-Selling Author and Noted Speaker, David shares his expertise in emotional wellness and consciousness. He works with Leaders, and with Individuals going through daily challenges like; Divorce, Parenting, Caregiving, Self-Inquiry, and more. Work with David and see feelings like; anxiety, fear, or anger relax, and ultimately reveal calm, wisdom, and love.
"David has a special blend of professionalism on the subject matter and connecting in a very human way with participants. In fact, that human touch, with both humor and warmth, really opened the door for more profound conversations on the work of the team."
Douglass Gardner
"I gained my life back after my divorce. Thank you for giving me the tools to move on with my life."
Barbara Washburn
"David Ellzey is a gifted teacher and healer, and he makes you laugh! He helps you to joyfully live in the moment, which is essential for a healthy body, mind, and spirit." 
Christiane Northrup, M.D.,
"David is one of those rare master coaches. His coaching was the beacon that guided me to new and fertile territory as I navigated the complexities of a divorce, a growing career, and raising children. I can't imagine getting through it without him."
Jan Nolte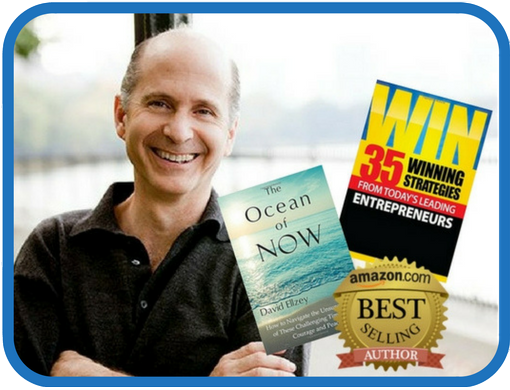 BEST SELLING AUTHOR
THE OCEAN OF NOW: How to Navigate the Unsure Waters of Our Challenging Times with Courage and Peace (CLICK)
Live powerfully in the present moment with these Five keys for Unlocking Happiness and Success.
"David's new book helps you to joyfully live in the moment, which is essential for a healthy body, mind and spirit." – Best-Selling Author, Christiane Northrop M.D.
WIN: 35 WINNING STRATEGIES FROM LEADING ENTREPRENEURS (CLICK)
"I felt this was more useful than the usual "believe in yourself" gibberish that appears I a lot of these type of books." – Siberton, Amazon Reviews